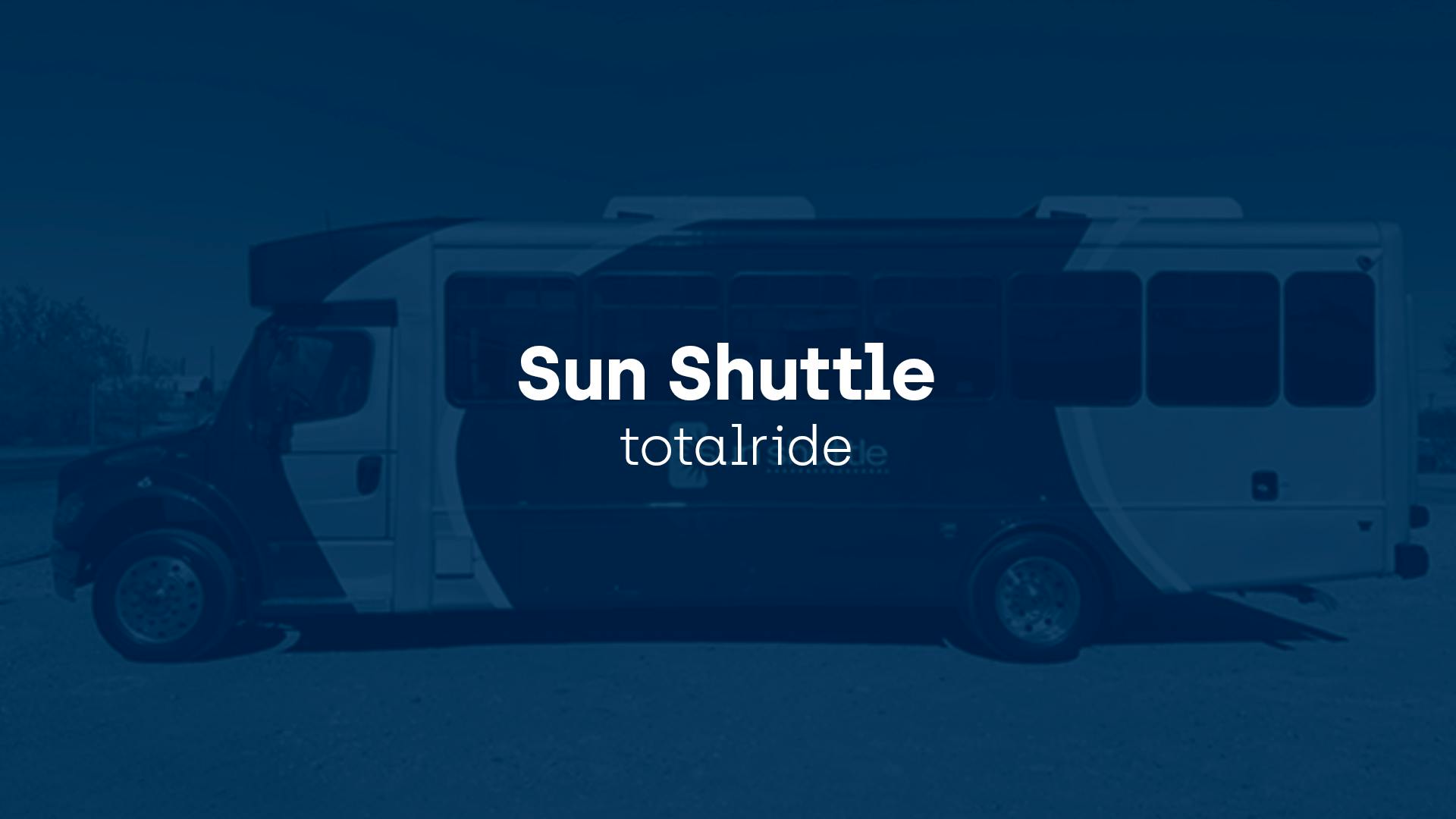 More rider-centric service across the region
Summary
TripShot modernizes Sun Shuttle's services, operated by totalride, by streamlining operations and improving the rider experience. TripShot makes booking trips, tracking arrival times and getting around the area simple for riders of these services outside of the service area.
Transit Modes Fixed Route, On Demand, Dial-A-Ride
Future Options Microtransit
Many of Sun Shuttle's mobility services are operated by totalride
Problem
Before TripShot, Sun Shuttle's Green Valley DAR operated without CAD/ AVL software, only using radios and paper reporting and requiring riders to call in and schedule a trip in advance.
"Before TripShot, drivers had to rely on printed manifests and changes were communicated over radios or by phone. Instead of communicating with dispatch for every change, drivers can now instantly see dynamic route modifications right in the TripShot Driver App."
—WADE HARDING, DIRECTOR OF INFORMATION TECHNOLOGY, TOTALRIDE
Solution
TripShot was implemented to power Sun Shuttle fixed route public transit that is open to everyone and Sun Shuttle Green Valley DAR service that is partially operated on Sun Shuttle vehicles. Our platform was installed quickly and without any issues, bringing both services into a new mobility era and improving the experience for riders, drivers and dispatch. TripShot's unified mobility management software simplifies dispatching for these services and uses True-Time® technology to provide up-to-the-second, GPS-based location data to managers, drivers and riders so everyone has access to the most accurate ETAs. TripShot uses nonproprietary hardware so Sun Shuttle can save on costs and push more accurate data while maintaining compatibility with other applications such as the services' mobile device management.
Sun Shuttle provides vital mobility options, especially in the more rural parts of the service area. Without the density for frequent fixed route service or rideshare options, rural riders can rely on TripShot to provide a technology-first solution for their rides with these services. Many rural riders are older adults and now enjoy more freedom to explore their community whenever they want to request a ride.
Providing a higher level of service and increasing the capacity of trips
Highly configurable On Demand service allowing transit administrators to set thresholds and constraints
Optimizing routes and dynamically addressing ride requests as ridership peaks change
Results
TripShot has elevated Sun Shuttle operations by making it easy to train new dispatchers. Upon onboarding, TripShot provides comprehensive training backed by 24/7 support. Additionally, TripShot provided training specific to CAD/AVL system administrators, bus operators and other users. These services are supported by a dedicated and experienced customer success manager to assist with all aspects of implementation and ongoing support. Sun Shuttle call center employees now enjoy greater efficiency and a more seamless platform to manage service.
99% Fixed Route on-time performance maintained
450-500 riders per month utilize the On Demand service