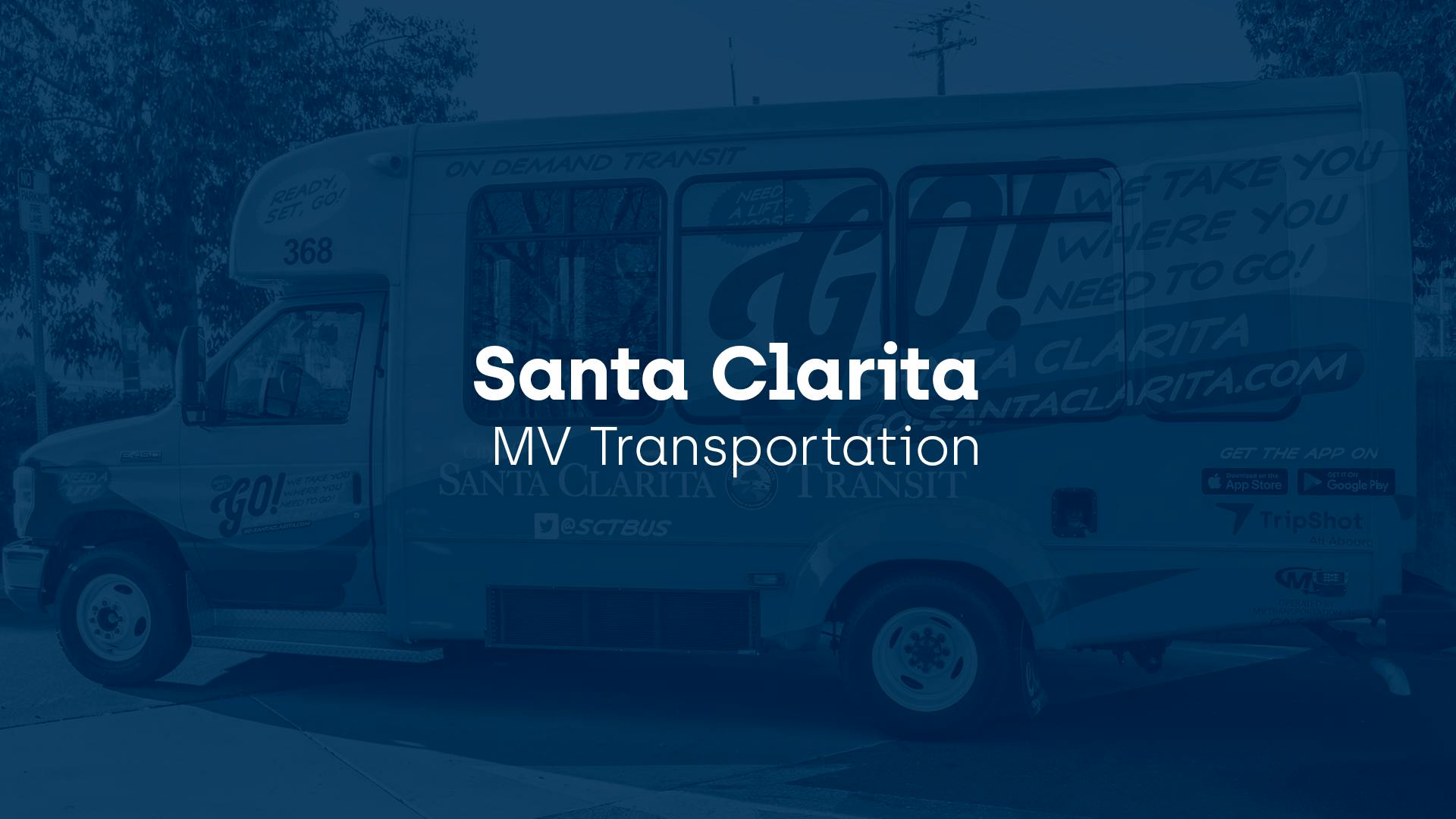 Piloting to expand transit options in the valley
Summary
Santa Clarita, MV Transportation and TripShot brought a whole new service to Santa Clarita residents - On Demand. Santa Clarita overcame several waves of the COVID-19 Pandemic that forced them to pause on-demand service multiple times. Since then, they have expanded their service area to offer a more flexible public transit experience for residents to get to key destinations within the community.
Transit Mode On Demand
4-5 Vehicles in operation
Many of Santa Clarita's mobility services are operated by MV Transportation
"TripShot provides many data reports so we can measure ridership demand. We work closely with our customer success manager to build on these reporting capabilities to answer important questions: should we expand service hours? How is On Demand supporting our fixed route service? How can we increase efficiency in operations"
—ADRIAN AGUILAR, TRANSIT MANAGER, CITY OF SANTA CLARITA
Problem
Before this pilot, large sections of Santa Clarita were underserved and inaccessible by their fixed route transit system. Additionally, a primarily residential area was recently annexed into the city, adding to the need for more public transit. Residents needed an affordable and predictable way to get to destinations like shopping centers and healthcare centers.
Santa Clarita decided to procure a transit solution that would be flexible enough to support on-demand service for these new areas and make it easier for residents to use public transit in the community.
Solution
MV Transportation brought TripShot and Santa Clarita together to start a pilot program in a matter of weeks. With On Demand, Santa Clarita residents now enjoy new mobility freedom, predictable and affordable rideshare pricing, and professional MV Transit drivers and vehicles. Santa Clarita administrators now have access to robust data that is automatically collected by TripShot. This data can be extracted to understand usage and ridership patterns. This will help Santa Clarita make critical service planning forecasts and decisions like expanding or rerouting fixed route, rightsizing On Demand and more.
Filling in transit gaps in underserved areas
Increasing flexibility for many DAR service riders
Highly configurable on-demand service allowing transit administrators to set thresholds and constraints

Results
This pilot program has quickly resulted in a much larger service area broken into two zones. As COVID-19 becomes more manageable and as marketing campaigns ramp up to educate riders, ridership has increased. Riders also frequently use this service to connect to fixed routes and other public transit systems in the area, such as Metrolink and regional trains. This makes it easier for residents with personal mobility issues to get to a fixed route stop or avoid walking long segments.
TripShot provides a seamless experience for riders to directly book their own rides rather than calling dispatch sometimes more than 24 hours in advance. Seniors and others who might be frequent riders of Santa Clarita's Dial-A-Ride (DAR) service sometimes need to schedule a trip quickly and can now use this on-demand service instead.
5,000+ Riders served in the first half of 2022, meeting a critical need for affordable transportation in the community.