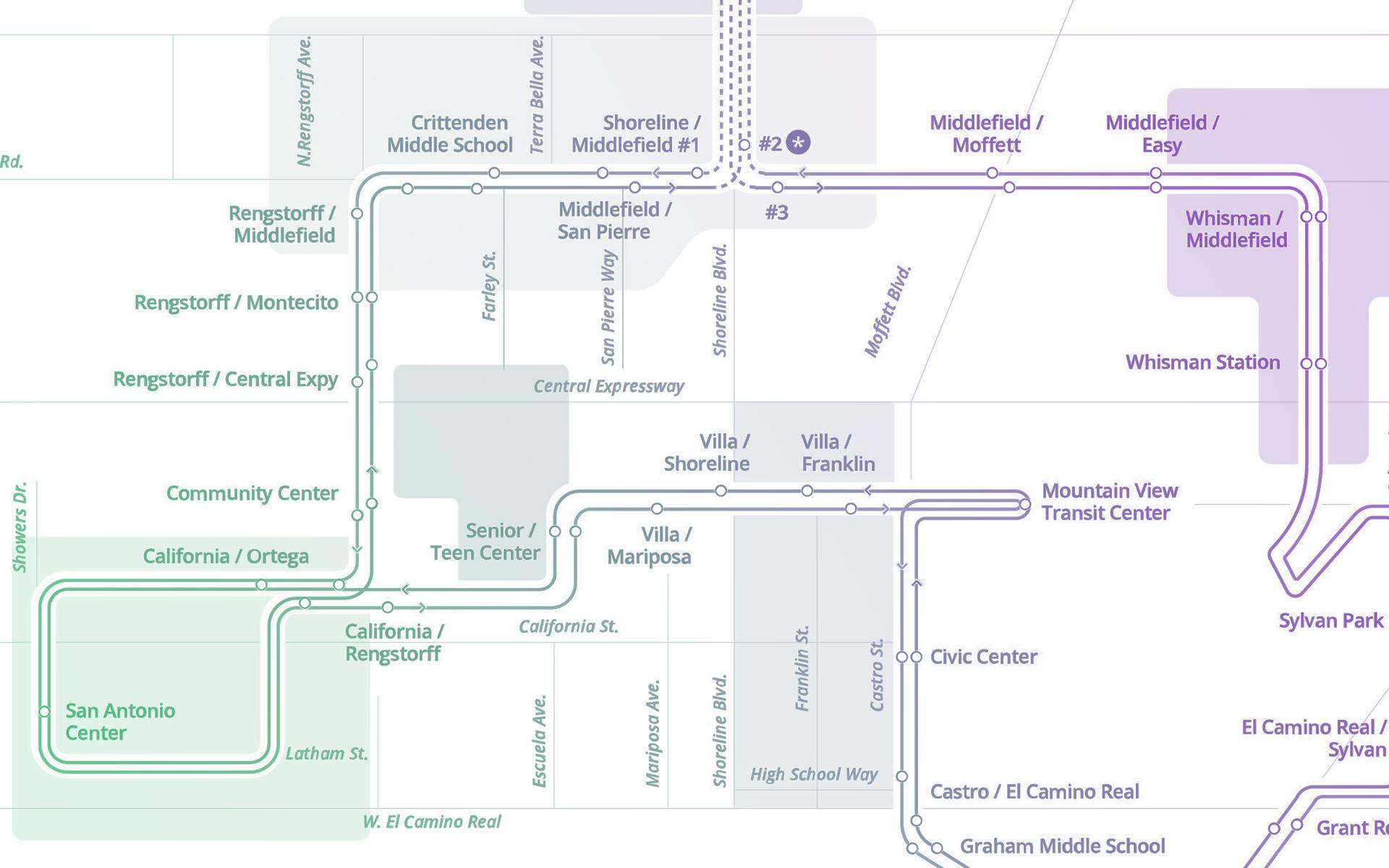 Mountain View Community Shuttle and TripShot
Modernizing on-time performance and ridership reporting
Summary
When the Santa Clara Valley Transit Agency (VTA) launched its new service plan in 2019, the Mountain View Community Shuttle (MVCS) became the City's premier transit provider, connecting residents, visitors and employees to the downtown transit center, shopping centers, schools, the hospital and other key areas throughout Mountain View. TripShot provides a unified mobility management platform for MVCS riders, drivers and operators, solving problems related to ontime performance (OTP), data entry and analysis and streamlining operations as they expand.
Transit Mode Fixed Route, Bikes
up to 10 vehicles in operation
"TripShot's user-friendly admin interface allows us to easily monitor the health and ridership of our program. We are also able to identify any operational issues using the real-time tracking and on-time performance tools."
—RONI HATTRUP, MOUNTAIN VIEW TRANSPORTATION MANAGEMENT ASSOCIATION
Problem
MVCS previously tracked OTP and ridership on hard-copy paper. Before TripShot, their team had to manually input each of the nearly 2,000 data points every day to analyze operations. In October 2016, MVCS began looking for an innovative technology solution. The transit management team discussed the use of TripShot. MVCS and TripShot initially rolled out in December 2016, primarily using TripShot's solution for OTP. By June 2017, MVCS fully transitioned operations to TripShot, eliminating the need for hard-copy ridership tracking and moving towards more unified operations.
Solution
TripShot is helping Mountain View Community Shuttle (MVCS) to improve rider satisfaction and to identify any operational issues using real-time tracking and on-time performance. Aside from the standard OTP and ridership tracking, a favorite TripShot component for MVCS is the History Feature. The History/Breadcrumbs feature is very helpful for MVCS to identify operational issues. TripShot captures GPS data every 1-2 seconds, and this data is immediately available in the live and history views.
The History module offers MVCS a playback tool, surfacing location data, tablet charging information, exact arrival and departure times for stops as well as incidents related to each trip or stop. The user can also expose the "breadcrumbs," showing every GPS hit from the vehicle via the Driver App. URLs to time stamps assist admins and dispatchers with quick reviews of events, and all of this location data is stored indefinitely. Learning from the past and applying changes to the operation has never been easier.
Expanding GTFS Real-Time (RT)
Breadcrumbs are a playback tool, surfacing location data, incidents, exact arrival and departure times and more

Results
MVCS and TripShot have built a supportive business relationship. TripShot's True-Time® up-to-the-second, GPS-based location data for managers, drivers and riders improves MVCS services. Transit managers can address several operational issues, such as early departures and significant delays as they happen, as well as addressing these instances after they happen by reviewing the OTP reports to identify patterns. Data contained in the TripShot system is stored indefinitely in the cloud, fully owned, accessible and exportable by MVCS at any time.
96% on time Rides to first stop within 3 minutes of scheduled time